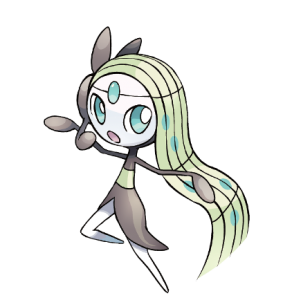 Pokemon's 20th anniversary  has brought us countless rounds of goodies this year. From the amazing Pokemon Go app to the newest addition to the main line games this has been a year full of magic and excitement for the series. In addition to the games, we have seen a lot of merchandise and free giveaways. Now it's December and they have announced the final Poke freebie from Gamestop.
Meloetta the melody Pokemon will be available for download through the Mystery Gift option. You will be able to download Meloetta from today until the 24th of December. The code will not currently work with Sun and Moon, but you can import your Pokemon including Meloatta with Pokemon Bank starting next month. Also, Meloetta does not come with her signature move, Relic Song, but a move tutor in Mauville city is able to teach it to her.
A plush version, as well as figure version, of Meloetta, will be available at Toys R Us this month. There is also a Pokemon Trading Card Game Mythical collection box themed for Meloetta available. The price will vary among the items.